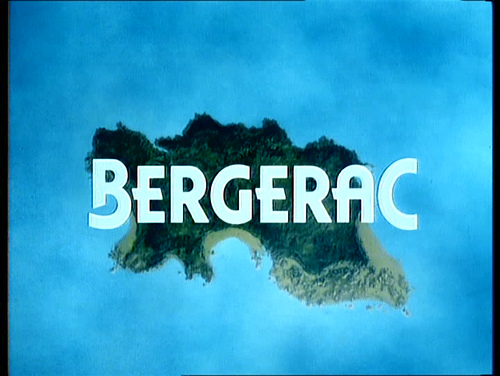 I think its almost fair to say that without 'Bergerac', many people would have no idea about Windward House. First apearing in the episode
"Campaign for Silence" in 1981 as the home of a wealthy Jersey Family, the house would, in future series, become the home of Charlie Hungerford, played by Terence Alexander
It was due to a claus in Terence Alexanders contract that he must appear in every episode of the televison series in some shape or form, that Windward house appeared so often. Showing of its lush green gardens, beautifull views and historic interior features, it wasnt long before Windward House was listed as one of the hot-stop tourist attractions on the island. Although not officially opened as a tourist attraction, many 'Bergerac Trails' that were run by coach companies would regularly point out 'Charlies House' during tours of the island. Indeed the house was so prominant in its location, that walkers would also travel to Portelet Common in order to catch a glimpse of the property which dominated the headland over Ouaisne Bay. This publicity certainly didnt harm the property when it came to the 'Open Garden Schemes' which raised money for local charities.

Even when Bergerac had finished, the house, along with many other sites including 'The Old Court House' restaurant in St. Aubin, which was used for the exterior shots of 'The Royal Barge' in the opening 3 seasons were still a regular haunt for fans of the show. Now that Bergerac is repeated on satellite television, as well as now being available on DVD, a whole new generation of fansvisit the island to try and find some of these famous locations. Working within the tourism industry, customer facing, Bergerac is still a regular conversation with many a visitor, all ages.
If you wished to purchase Bergerac on DVD, please click the link below and place your orders with Play.com, and enjoy what Jersey used to be like, before greed and finance took over the island, and made it what it is now....